Dear Parent/Guardian, In keeping with Eastland ISD's practices to respond to COVID-19, we are notifying all student families that a STAFF MEMBER who was lab-confirmed to have COVID-19 was present on the campus of Siebert Elementary School on Wednesday, December, 2. Due to privacy requirements, we will not be releasing the name of the individual or details that may identify him or her. The District is working with local health officials and we have begun a case investigation. Campus administrators have contacted any individuals determined to be in close contact with the infected individual. We will keep you apprised of further updates that may be necessary. While we do not have reason to believe that those who were not in close contact with the infected individual have reason to be concerned, we ask that you, as always, to watch for symptoms of COVID-19. Any of the following symptoms indicate a possible COVID-19 infection: • Feeling feverish or a measured temperature greater than or equal to 100.0 degrees Fahrenheit • Loss of taste or smell • Cough • Difficulty breathing or shortness of breath • Fatigue • Headache • Chills • Sore throat • Congestion or runny nose • Shaking or exaggerated shivering • Significant muscle pain or ache • Diarrhea, nausea or vomiting If you or any member of the EISD community does begin experiencing any of these symptoms in a way that is not typical, we encourage you to contact your physician. We encourage anyone in the EISD community who is lab-confirmed to have COVID-19 to please notify our school by contacting the campus administrator. Dr. Jason Cochran - Superintendent Eastland ISD

12/2/2020 Dear Parent/Guardian, In keeping with Eastland ISD's practices to respond to COVID-19, we are notifying all student families that a STUDENT who was lab-confirmed to have COVID-19 was present on the campus of Eastland Middle School on Wednesday December, 2. Due to privacy requirements, we will not be releasing the name of the individual or details that may identify him or her. The District is working with local health officials and we have begun a case investigation. Campus administrators have contacted any individuals determined to be in close contact with the infected individual. We will keep you apprised of further updates that may be necessary. While we do not have reason to believe that those who were not in close contact with the infected individual have reason to be concerned, we ask that you, as always, to watch for symptoms of COVID-19. Any of the following symptoms indicate a possible COVID-19 infection: • Feeling feverish or a measured temperature greater than or equal to 100.0 degrees Fahrenheit • Loss of taste or smell • Cough • Difficulty breathing or shortness of breath • Fatigue • Headache • Chills • Sore throat • Congestion or runny nose • Shaking or exaggerated shivering • Significant muscle pain or ache • Diarrhea, nausea or vomiting If you or any member of the EISD community does begin experiencing any of these symptoms in a way that is not typical, we encourage you to contact your physician. We encourage anyone in the EISD community who is lab-confirmed to have COVID-19 to please notify our school by contacting the campus administrator. Dr. Jason Cochran - Superintendent Eastland ISD


Eastland (home) vs Gunter (visitor) UIL Regional Quarterfinals – Thursday 12/3/2020 Site: Globe Life Park - 1000 Ballpark Way, Arlington TX 76001 Kickoff: 7:00 Parking lot Opens: 5:30 Gates Open: 6:00 TICKETING /PARKING INFORMATION Ticket Type Available: Tickets will be sold in pods of 2, 4, and 6 Ticket Prices: $12.00 – Check
www.texasrangers.com/football
Pre-Purchased Parking: $15.00 Day of Parking: $15.00 Parking will be in lots: M,N,E, and L. **Please note that Parking Lot D will not be available** Tickets on Sale at:
www.texasrangers.com/football
or at Globe Life Park (no cash sales) **Please read all requirements of Globe Life Park** All guests entering Globe Life Park will be required to wear a face covering. The requirement does not apply to people who are eating or drinking, to anyone for whom the wearing of a face covering poses a significant mental or physical health risk, and/or to children under the age of 10. Masks are also required in the building and social distancing is encouraged. FAN INGRESS & SCREENING *Congregation inside the ballpark or parking lots before and after the game is highly discouraged *A ticket will be required to enter the stadium gates for guests *Walkthrough metal detector screenings will take place at all entry gates *NO BAG policy will be enforced with the exception of a medical bag or diaper bag *Masks and or face covering will be needed for entry. No Re-Entry policy will be enforced *Fans will not be allowed on the field HOME PLATE GATE (HOME TEAM) – GENERAL ADMISSION ENTRANCE *Home Plate Gate will serve as the designated entrance for all of the Eastland HS fans attending the game CONCESSION STANDS *Concessions to open (1) hour prior to kickoff *Cashless transactions for all stands open on the main concourse *Packaged snacks and pre-packaged ballpark items * Items to include – hot dogs, nachos, snack items (chips, popcorn etc.) *Quantity of concession stands open on the main concourse will be on an attendance basis PROHIBITED ITEMS *No outside food or drink permitted in the building except for a clear, sealed bottle of water for the individual. *Bags will not be permitted into the building. However - any bags carried for medical reasons, as well as manufactured diaper bags that accompany infants and young children, are permitted. *Bags carried into the venue by Band, Drill, and Cheer are permitted *Clothing with offensive or profane language *Disorderly conduct *Laser pointers *Noisemakers *However – these are subject to inspection pending size and may be allowed in by security's discretion *Drones/Use of drones *Wagons *Oversized Banners *Exception of removable signs and banners brought in by the Cheerleading team or Spirit Clubs *Balloons, Confetti, Streamers *Weapons of any kind, including knives, even if properly permitted or registered *Any item deemed inappropriate for this event by Globe Life Park staff ADA GUESTS *ADA seats are available for purchase at Texas Rangers/Football *Any ADA assistance needed will be provided by Guest Service Representatives on the main concourse * For reasonable accommodations, please speak with any staff member or contact Guest Services by emailing
fanrelations@texasrangers.com
or calling 817-533-1717. LIVE-STREAM The game will also be livestreamed at:
https://www.texanlive.com/2020/11/eastland-vs-gunter-12-3-2020-700pm-football-globe-life-park-regional-finals-playoffs/
Purchase price is $7.95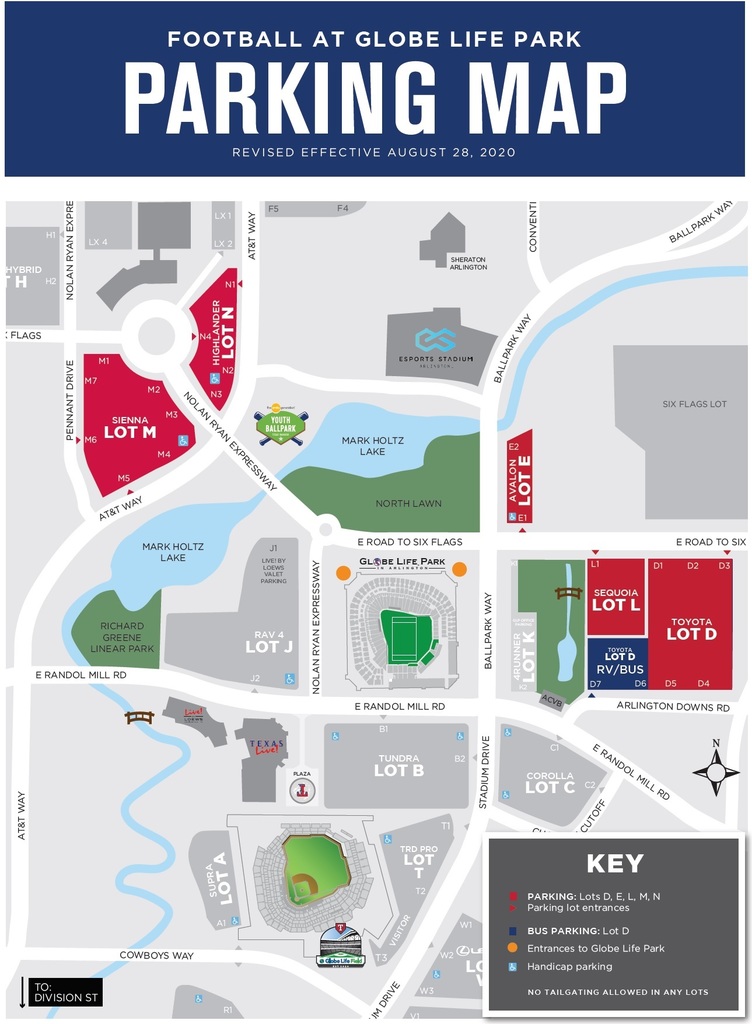 Globe Life Park is currently experiencing technical difficulties with ticket sales for Thursday's playoff game. As soon as the issue is fixed we will post all information needed for tickets and parking. Thank you, EISD Administration

Please note the time changes for tomorrow evening. Community Pep Rally Wednesday 12-2-20 Maverick Stadium Come out and show your support for our Mavericks as they prepare to play in the Regional Quarterfinals. Hotdogs will be served in the parking lot starting at 5:30. The pep rally will start in Maverick Stadium at 6:00.

12/1/2020 Dear Parent/Guardian, In keeping with Eastland ISD's practices to respond to COVID-19, we are notifying all student families that a STAFF MEMBER who was lab-confirmed to have COVID-19 was present on the campus of Siebert Elementary School on Monday November 30. Due to privacy requirements, we will not be releasing the name of the individual or details that may identify him or her. The District is working with local health officials and we have begun a case investigation. Campus administrators have contacted any individuals determined to be in close contact with the infected individual. We will keep you apprised of further updates that may be necessary. While we do not have reason to believe that those who were not in close contact with the infected individual have reason to be concerned, we ask that you, as always, to watch for symptoms of COVID-19. Any of the following symptoms indicate a possible COVID-19 infection: • Feeling feverish or a measured temperature greater than or equal to 100.0 degrees Fahrenheit • Loss of taste or smell • Cough • Difficulty breathing or shortness of breath • Fatigue • Headache • Chills • Sore throat • Congestion or runny nose • Shaking or exaggerated shivering • Significant muscle pain or ache • Diarrhea, nausea or vomiting If you or any member of the EISD community does begin experiencing any of these symptoms in a way that is not typical, we encourage you to contact your physician. We encourage anyone in the EISD community who is lab-confirmed to have COVID-19 to please notify our school by contacting the campus administrator. Dr. Jason Cochran - Superintendent Eastland ISD

Community Pep Rally Wednesday 12-2-20 Maverick Stadium Come out and show your support for our Mavericks as they prepare to play in the Regional Quarterfinals. Hotdogs will be served in the parking lot starting at 6:00. The pep rally will start in Maverick Stadium at 6:30.

Eastland ISD will have an early release Thursday (12-3-20) to accommodate travel needs for staff, students, and fans to Thursday's playoff game in Arlington. All campuses will release at 12:00 and buses will run at 12:15. We will be releasing game information (tickets, parking, etc) as soon as possible. Friday (12-4-20) will be on normal schedules.

Maverick Football Playoff Game Information Eastland vs Holliday - Friday November 27th Kickoff: 7:00 Site: Newton Field - Graham High School 1100 Calaveras St -- Graham, Texas 76450 Ticket Information: All tickets must be purchased online -
https://www.grahamisd.com/272594_2
No passes will be accepted and no tickets will be sold at the stadium. You must have a ticket to enter the stadium.

Shared from our Eastland Athletic Boosters
https://gogearonline.com/eastland-BB?fbclid=IwAR2GjIIGXhYHGLSKspxWGThNm0O3hLcbuY1s2JvD_Wf99n12IKesi15JuhY
Eastland basketball spirit shirts are here! They don't come with numbers but the Option is there for an additional 7$ if you wish the back will have the "believe" on all of them. The sale closes Sunday November 22 that night at midnight so all orders and payments must be entered by then. Please share and support our Eastland Mavs! Delivery expected December 3 with this close date. Please share all proceeds would go towards our Eastland mavs!

https://www.facebook.com/EastlandFFA/posts/987666788392652
Eastland FFA has 10 teams Advancing to Area LDE Competition next week. We are MAVERICK PROUD of our Eastland FFA teams!! Cross Timber District Sweepstakes Champions 9 District Champion Teams and 1 Runner UP. Team Results District Champion Ag Advocacy- team members Jillian Kennedy, Kynnley Herrington, and Lourdes Vance District Champion Greenhand Ag Advocacy- Landri Foster, Jaci Darr, and Faith Atcherson District Champions Greenhand Chapter Conducting - Landri Foster, Jaci Darr, Cole Bridges, Londyn Carroll, Ada Cunningham, Bentley Huffman, Ian Norris, Bryson Thornton, Ivan Rivas and Angelina Panagapolous District Champion Greenhand Quiz - Londyn Carroll, Grady Galyean, Aaron West, Izzy Montez and Mariah Hernandez District Champion Greenhand Radio Broadcasting- Preston Rose, William Ainsworth, Gracie Bowles, and Ari Montano District Champion Greenhand Skills- Macie Hood, Karsen Tucker, Nicole Blankenship, and Brynna Branch District Champion Radio Broadcasting- Shaiden Justice, Braeden McDonald, Jessica Rice and Kayle Nichols District Champion Senior Skills- Jersey Brown, Hannah Edwards, Maddox Kirkpatrick District Champion Senior Quiz- Micayla Henry, Camryn Willis, Emily Zamora District Reserve Champion Senior Chapter Conducting- Hannah Edwards, Micayla Henry, Kynnley Herrington, Jillian Kennedy, Maddox Kirkpatrick, Lourdes Vance, Camryn Willis, Emily Zamora District Third Place Greenhand Creed- Adalynn Cunningham District Third Place Senior Creed- Maddox Kirkpatrick

Area Round Football Playoff Game (*updated) Eastland vs Bells @ Boyd High School – Yellow Jacket Stadium 700 Knox Ave -- Boyd, Texas 76023 Friday 11/20/2020, 7:30 Kickoff Tickets will be on sale at Yellow Jacket Stadium Eastland will be visitors

Area Round Football Playoff Game Eastland vs Bells @ Boyd High School – Yellow Jacket Stadium 700 Knox Ave -- Boyd, Texas 76023 Friday 11/20/2020, 7:30 Kickoff Ticket information will be posted as soon as it is finalized

11/10/2020 Dear Parent/Guardian, In keeping with Eastland ISD's practices to respond to COVID-19, we are notifying all student families that a STUDENT who was lab-confirmed to have COVID-19 was present on the campus of Eastland Middle School on Friday November, 6. Due to privacy requirements, we will not be releasing the name of the individual or details that may identify him or her. The District is working with local health officials and we have begun a case investigation. Campus administrators have contacted any individuals determined to be in close contact with the infected individual. We will keep you apprised of further updates that may be necessary. While we do not have reason to believe that those who were not in close contact with the infected individual have reason to be concerned, we ask that you, as always, to watch for symptoms of COVID-19. Any of the following symptoms indicate a possible COVID-19 infection: • Feeling feverish or a measured temperature greater than or equal to 100.0 degrees Fahrenheit • Loss of taste or smell • Cough • Difficulty breathing or shortness of breath • Fatigue • Headache • Chills • Sore throat • Congestion or runny nose • Shaking or exaggerated shivering • Significant muscle pain or ache • Diarrhea, nausea or vomiting If you or any member of the EISD community does begin experiencing any of these symptoms in a way that is not typical, we encourage you to contact your physician. We encourage anyone in the EISD community who is lab-confirmed to have COVID-19 to please notify our school by contacting the campus administrator. Dr. Jason Cochran - Superintendent Eastland ISD

11/10/2020 Dear Parent/Guardian, In keeping with Eastland ISD's practices to respond to COVID-19, we are notifying all student families that a STUDENT who was lab-confirmed to have COVID-19 was present on the campus of Eastland High School on Friday November, 6. Due to privacy requirements, we will not be releasing the name of the individual or details that may identify him or her. The District is working with local health officials and we have begun a case investigation. Campus administrators have contacted any individuals determined to be in close contact with the infected individual. We will keep you apprised of further updates that may be necessary. While we do not have reason to believe that those who were not in close contact with the infected individual have reason to be concerned, we ask that you, as always, to watch for symptoms of COVID-19. Any of the following symptoms indicate a possible COVID-19 infection: • Feeling feverish or a measured temperature greater than or equal to 100.0 degrees Fahrenheit • Loss of taste or smell • Cough • Difficulty breathing or shortness of breath • Fatigue • Headache • Chills • Sore throat • Congestion or runny nose • Shaking or exaggerated shivering • Significant muscle pain or ache • Diarrhea, nausea or vomiting If you or any member of the EISD community does begin experiencing any of these symptoms in a way that is not typical, we encourage you to contact your physician. We encourage anyone in the EISD community who is lab-confirmed to have COVID-19 to please notify our school by contacting the campus administrator. Dr. Jason Cochran - Superintendent Eastland ISD

EISD Teachers and Staff: The past 9 months have been the most challenging some of us have faced in our lifetime. As this pandemic inches its way into each oncoming months, its effect has varied from person to person. However, a universal and vast concern has always been our school systems and the students they serve. We proudly watched you teach from home last year and then open our schools safely and effectively in August and we know this has not been an easy task. As a staff, you have risen to the challenge proving you will do whatever it takes to provide the safest and best education possible for OUR kids. The EISD school board recognizes that you have put in countless hours and your own resources so that school can feel as "normal" as possible. It is not only our honor, but also a privilege to give you a well-deserved gesture of a COVID Relief Stipend. On your November paycheck, teachers will receive a $1,000 stipend and support staff will get a $250 stipend. Thank you for all you have done and will do in the future! We are not sure what the future has in store, but we do know that the students in the Eastland Independent School District will have the best learning opportunities possible because of you. Our kids are blessed by your service. It's A Great Day To Be A Maverick! David Hullum, Billy Bob Orsagh, Dedria Sadler Brent Kirkland, David Hatton, John Bird, Donald Cate
https://www.youtube.com/watch?v=lNKCpLlHobY&feature=youtu.be

Ticket purchasing for Bi District Playoff Eastland vs Callisburg (HOME FANS - EASTLAND) Thursday, Nov 12 at 7:00 PM at Decatur High School 608 E Shoemaker St, Decatur, TX 76234 Please visit
https://www.decatureagles.net/HTTtickets

The Siebert Elementary Book Fair will be online this year! You can begin shopping Monday, Nov. 9th-Sunday, Nov. 22nd by clicking
https://bit.ly/sesbookfair2020
. The link is also posted on the SES webpage and FB page. 😊