NEWS
Due to the large amounts of rain, an electrical pole has come loose at the track. The area has been marked with caution tape for safety purposes. A professional service will arrive by the end of...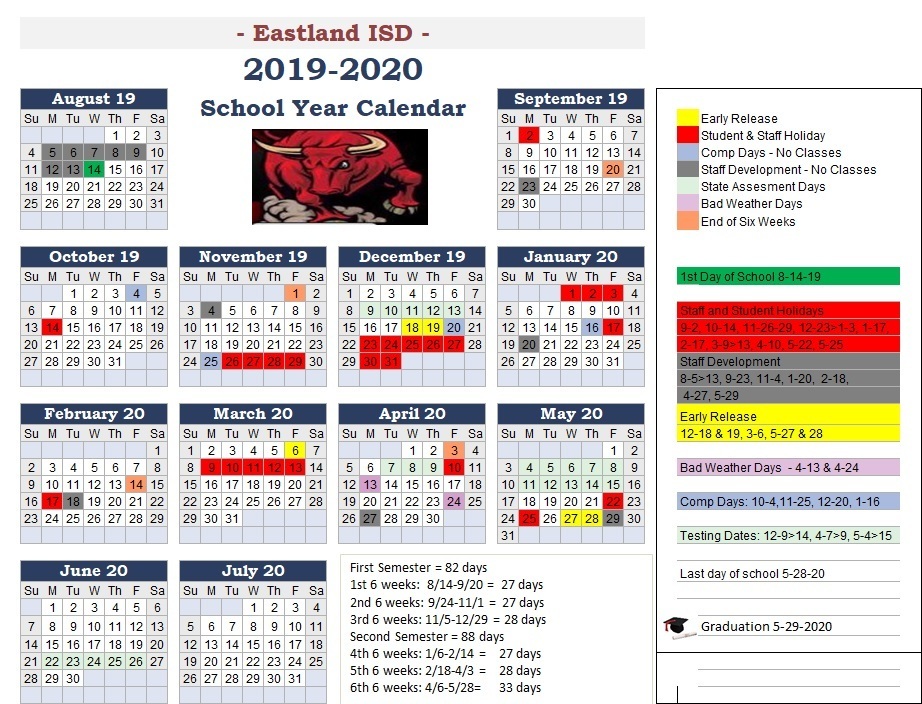 SEE ALL NEWS
LIVE FEED

2019 Football Schedule
view image
about 21 hours ago |
Crystal Kidd
The Eastland County High School Fishing Team will be holding a meeting next Tuesday June 11th at 5:45 at Outdoor Specialties in Eastland. We will be discussing the upcoming year/season. Anyone who is interested must attend the meeting with a parent and must be a high school student, 9th-12th grade. The team is a COUNTY wide fishing team, so if you are in Eastland County and in High School you are eligible to participate. Teams are 2 students per boat. If you are interested in being a boat captain for a team during the tournaments please attend the meeting or call Danny Foster, Auston Rose or Terry Rose at 254-629-8877 for more information. You do NOT have to have a child on the team to be a boat captain. If you are not sure about the fishing program, please come to the meeting and we can answer any questions or concerns you may have. We are excited for our 2nd year of a great program for Eastland County High School kids. Hope to see you there!
20 days ago |
Adam Bramlett
This morning at approximately 6:45 am, Eastland ISD had a bus experience what appears to be a blowout and ran off the road North of Eastland on CR 165. A special thank you to all the students whose behavior was excellent and helped greatly with the situation. Everyone is safe and at school. Thank you to the parents, First Responders, and staff for their quick communication and response in helping keep our children safe. We greatly appreciate everyone for all they did and are doing to help in this situation.
about 1 month ago |
Debbie Thompson

Good luck to the Lady Mavs as they head to ACU for Game 1 of the Area round of Playoffs tonight!
about 1 month ago |
Crystal Kidd
SEE ALL POSTS
Events