Today is the Day......... Last Day to pick up your reserved season tickets for Maverick Football. All remaining tickets will be sold beginning Monday morning at 8 (8/19) in the high school office. Have a great Friday

Just a reminder that this Friday is the last day to pick up your reserved season tickets for Maverick Football. Starting Monday, all tickets that have not been picked up will go on sale to the public. Thank you!

Dont Forget Mini Mav Cheer Camp Incoming Pre-k - 6th grade August 17th 8:30-3

Freshman Orientation tonight 6PM High School Audiorium Get your schedules, take a tour of the high school and hear students talk about all the extracurricular activities available here at EHS

Online registration is open. Go to:
https://gb.txeis14.net/pp067903/Login.aspx
Top ten questions answered. 1. All students will need to be registered online this year. As with anything new, it may be a bit frustrating. 2. This is in place of the packet of colored forms you normally complete at the beginning of each year. 3.You will have to have a txConnect account. 4. txConnect is often referred to as Parent Portal. 5. If you don't have an account, you will need your students unique portal ID and a valid email address to set one up. If you call the school at 631-5040 we can give you the portal ID and verify the email address we have on file. 6. This registration it faster and less repetitive than the paper packet. 7. You cannot use the txconnect app. You will have to copy the link into your browser if using a cell phone. (we realize this makes no sense and are frustrated by it as well) 8. If you need help, we have computers set up at the school for you to use, and people to help you. 9. Your student will not be able to get their schedule until online registration is complete. 10. We hope this makes registration easier and faster for parents!

Community Back to School Bash Please come join Eastland ISD staff members on the square for a welcome back event on Thursday August 8th starting at 6:00. We will be having a hot dog supper provided by First Financial of Eastland and delicious desserts provided by the Eastland ISD staff. We would love for our community to come out and celebrate with us a new school year.

Season Tickets for the 2019 Maverick Football season are now available for those who purchased season tickets last year in the high school main office. Cost is 30$ per ticket this year due to the 6 home games. All remaining tickets will be on sale beginning the 19th of August.

2019 Football Schedule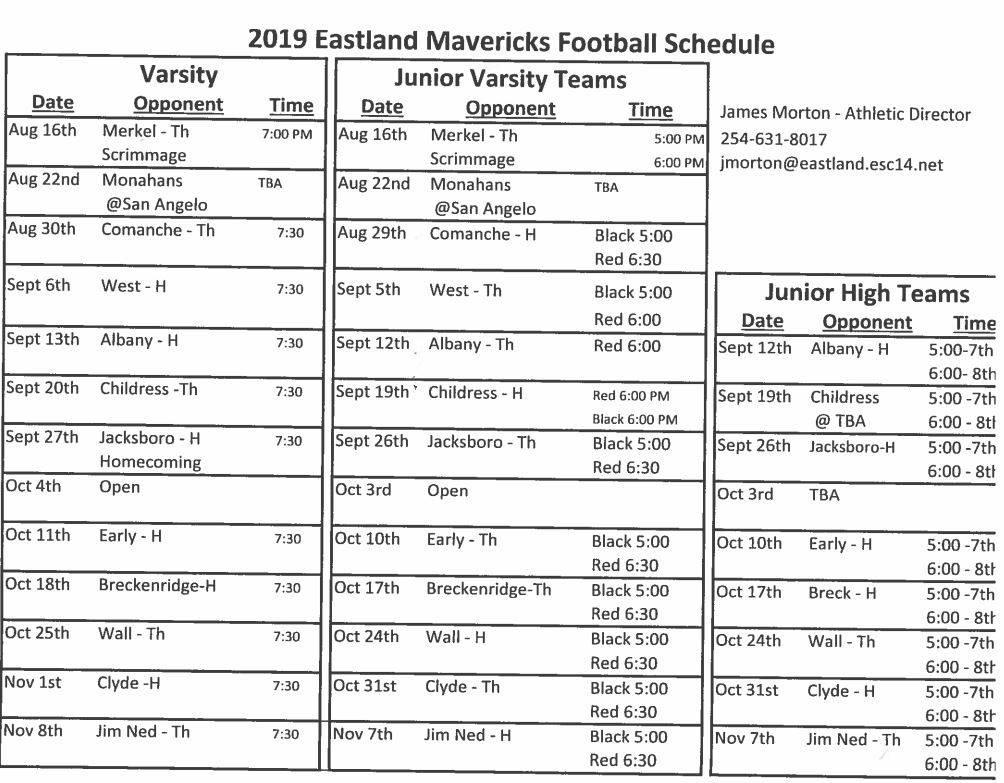 Congratulations to McKall Morton for taking 3rd place at State this morning!!! Eastland is so proud of you!!

Way to go Lady Mavs with the game 3 win over Peaster of 3-2!!

Congratulations to the Lady Mavs on their game 2 win over Peaster in extra innings with a score of 2-1!

Congratulations to the Mavericks on their win against Jim Ned tonight! After a LONG rain delay they beat the Indians 10-3. Game 3 will be played at 10:30 tomorrow morning at ACU.

Good luck to the Mavericks as they take on the Jim Ned Indians for playoff game #2 tonight in Hermleigh at 7:00!

Good luck to the Lady Mavs as they take on the Peaster Lady Greyhounds in a series, all in Glen Rose. Game 1 will be today, May 3rd @ 6pm. Game 2 will be on Saturday, May 4th @ 11 am in and if needed, Game 3 will be on Saturday @ 2 pm. Come out and support these awesome Lady Mavs!

EHS Academic Banquet, Thursday, May 9th at The Lumberyard - 7:00 pm.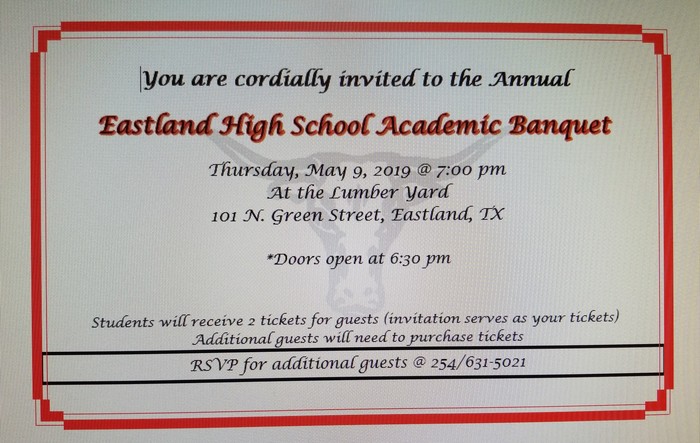 The Eastland Mavericks will head out tomorrow at 2:15 for their first game of the playoffs at McMurray. Please show your support for these boys and line the streets as they leave town. The route will be from the baseball field to Ostrom. Ostrom to Main. Main to Seaman. Seaman to Highway 6 and on to I20. This is the first time in 5 years The Mavericks have gone to the playoffs!! Show your support and spirit tomorrow at 2:15!!

Maverick Baseball Playoffs! Thursday and Friday, May 2nd and 3rd. We will be playing in a best of 3 series at McMurry University at 5 PM. Come out and support these awesome Mavs!

Congratulations to the Mavericks on their win against Dublin. 14-5!!

Location change for tomorrows Lady Mavs playoff game. Location will be in Trent at 5:00 instead of Hawley.

Congratulations to the Eastland Lady Mavs on their District Champs status!! What a great season! The Lady Mavs will play their first playoff game this Thursday, 4/25, against Jim Ned in Hawley at 6:00. Show these ladies your support and fill the stands to cheer them on!!