Just a reminder that Monday, September 26th is a workday for teachers and students will not have school that day.
Eastland ISD will be offering several opportunities for parents to come learn about important topics and provide valuable input. Please take a moment to review the newsletter.
https://www.smore.com/g7wtn

The Maverick Homecoming Varsity football game on Sept. 16th will begin at 7:30 pm.

Due to a shortage in officials scheduling for our sub varsity football this week will be as follows 7th Grade at Hawley - 5 PM 8th Grade at Hawley - 6 PM JV Red at Hawley - 7 PM Our junior high combo and JV black will be scheduled when we have it confirmed

Volleyball Schedule for Tuesday (8-30-22). **Please note this is a change from the published schedule.** Varsity @ Strawn 5:30 JV Black @ DeLeon 4:30 JV Red @ DeLeon 5:30

Congratulations to our 2022-2023 Class Officers Seniors President: Cylea Carper Vice President: Lezly Vazquez Secretary: Micayla Henry Treasurer: Tyler Dougless Juniors President: Cole Bridges Vice President: Grady Galyean Secretary: Preston Rose Treasurer: Macy Hood Sophomores President: Cason Browning Vice President: Jacob Harrower Secretary: McKenna Fambro Treasurer: Daila Sadler Freshmen President: Addison Daliege Vice President: Kye Herrington Secretary: Tavyn Huffman Treasurer: Maci Bradford

High School pep rally will be Friday August 26th at 8:30 a.m. in the Marshal Gym.
Attention parents: EISD is no longer using MySchool Bucks for cafeteria payment. You can sign-up for the new system at this link:
https://family.titank12.com/
However, the new system is not accepting payment yet. We will send out a notification when the new system is up and running. In the meantime, students may bring cash or a check to pay for extra items. As a reminder, ALL students may receive a free tray for breakfast and lunch.

If you are interested in being a part of the Eastland County High School Fishing Team, there will a meeting this Saturday at 12:00. The meeting will be held at Outdoor Specialties. Students must be in 9th grade and up. Additionally, students must remain academically eligible to be able to compete. If you have any questions, please contact Terry Rose at 254-433-0878. Thank you
The Texas Education Agency released its state accountability ratings for districts and campuses across the state on Monday, August 15. We would like to announce that Eastland ISD received a "B" rating with an overall score of 84.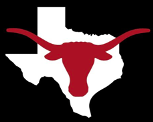 We will have schedule pick up on Tuesday in the commons for students from 9:30-11:30. Freshman who wish to find their classes can walk the building at this time as well. Enjoy your last few days of summer.
Please take a moment to read the following message from EISD Superintendent of Schools, Jeremy Williams.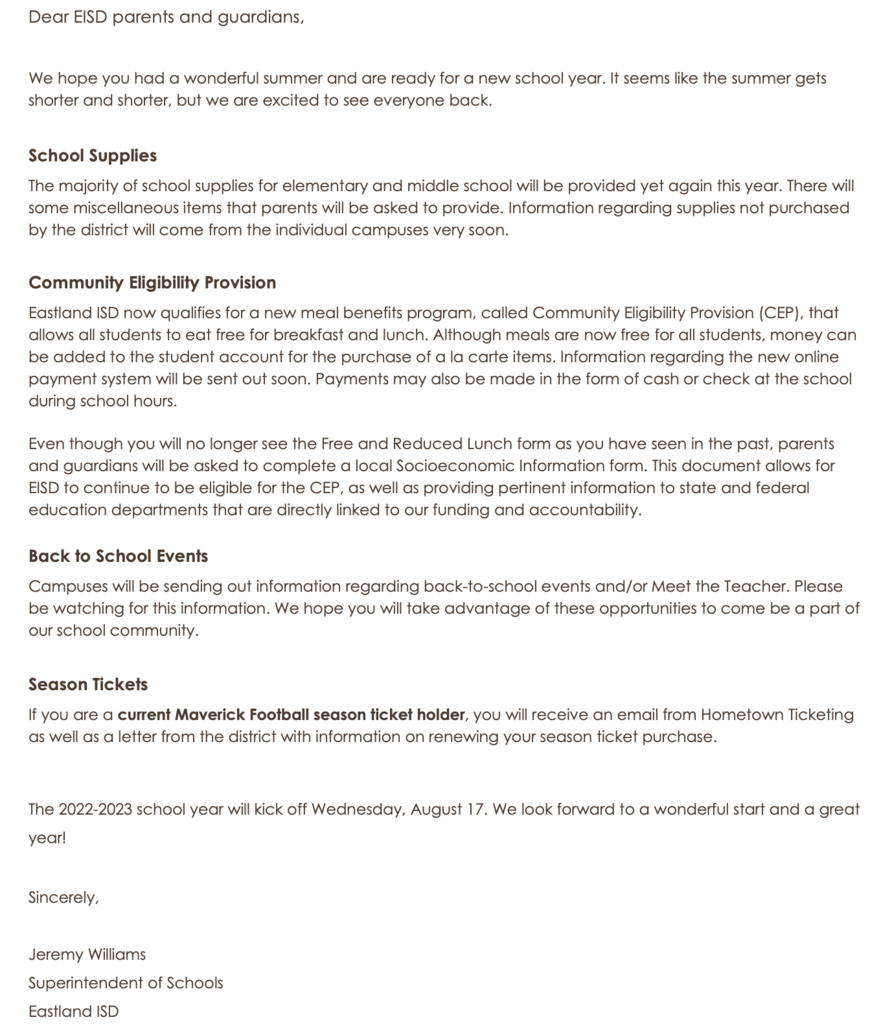 Please take a moment to check out our new district newsletter! You will find a link to a survey regarding our federal programs, and we would love your input. District Newsletter and Survey
https://www.smore.com/e0n4c

The week of May 2nd- 6th is state testing at the High School. Tuesday (5/3) will be the Algebra EOC. All freshman and any student retesting will begin testing at 8. Wednesday (5/4) will be the Biology EOC. All freshman and sophomores in Biology and any student retesting will begin testing at 8. Thursday (5/5) will be the US History EOC. All Juniors and any student retesting will begin testing at 8 am. On the 3 testing days (Tuesday-Thursday), students not testing will report to school at 1 pm. Monday and Friday will be regular school days. If you have any questions, please call the office at 254-631-5000 or email
abramlett@eastland.esc14.net

Eastland ISD will not have school on Friday (4-15-22) for a staff and student holiday. Monday (4-18-22) will be a staff development day and students will not have classes.

Tonight's One Act Play performance has been cancelled due to last minute scheduling conflicts.

The Eastland High School one-act play performance scheduled for 7 p.m. tonight has been cancelled due to unforeseen circumstances.

Just a reminder to parents and students that we will be STAAR testing on Tuesday and Thursday this week. On Tuesday the 5th all freshman and any re-testers for the ENG 1 test need to be at school at regular time. All other students will report at 1 PM. On Thursday the 7th, we will be testing all Sophomores and any ENG 2 re-testers. All other students will report at 1 PM. If you have any questions please call 254-631-5000 or email
abramlett@eastland.esc14.net
.

Maverick Family At 8:10 today on "CBS This Morning" our high school band director, Mr. Cox, is being announced as the winner of the 2022 GRAMMY Music Educator Award. The segment will include video of our town and interviews with our students. At this time, Mr. and Mrs. Cox are already in Las Vegas where they will be participating in official Grammy week events. During the telecasts of the Grammy's on Sunday there will be a moment where Award Show Host Trevor Noah acknowledges Mr. Cox and he will be seen briefly on camera as well. We are so very proud of Mr. Cox and cannot wait for him to get back to Eastland so that we can celebrate this with him.

Varsity baseball will be at 4 pm today with JV to follow. We adjusted the schedule to try to get the games in before the storms.