Community Back to School Bash Please come join Eastland ISD staff members on the square for a welcome back event on Thursday August 8th starting at 6:00. We will be having a hot dog supper provided by First Financial of Eastland and delicious desserts provided by the Eastland ISD staff. We would love for our community to come out and celebrate with us a new school year.

Season Tickets for the 2019 Maverick Football season are now available for those who purchased season tickets last year in the high school main office. Cost is 30$ per ticket this year due to the 6 home games. All remaining tickets will be on sale beginning the 19th of August.

2019 Football Schedule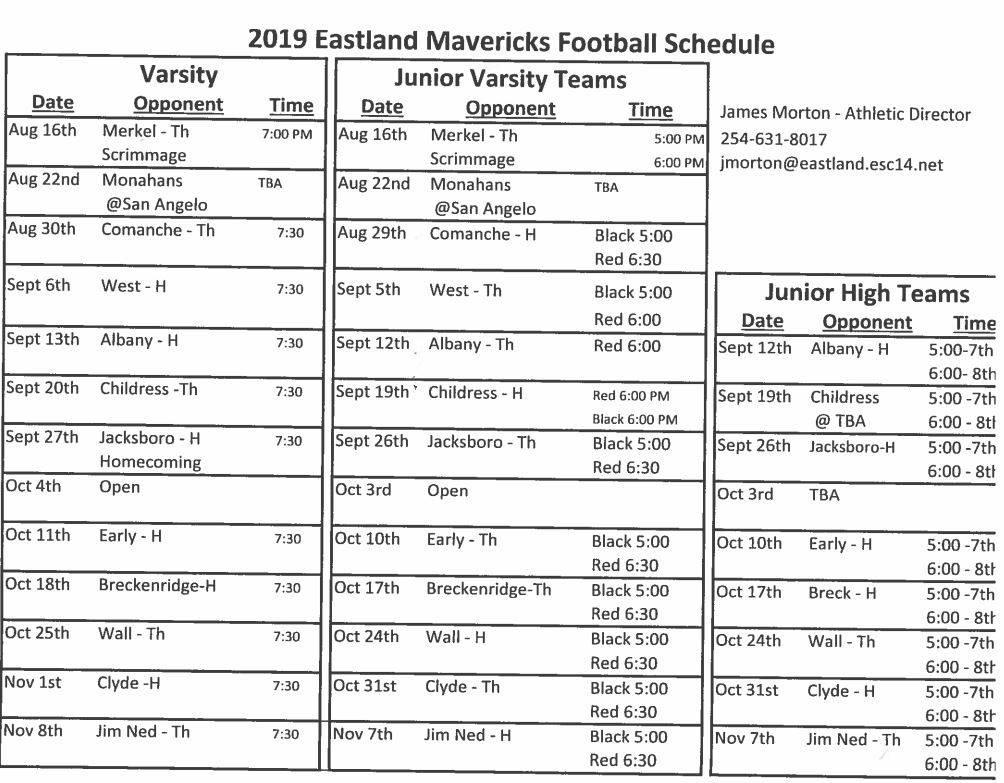 Congratulations to McKall Morton for taking 3rd place at State this morning!!! Eastland is so proud of you!!

Way to go Lady Mavs with the game 3 win over Peaster of 3-2!!

Congratulations to the Lady Mavs on their game 2 win over Peaster in extra innings with a score of 2-1!

Congratulations to the Mavericks on their win against Jim Ned tonight! After a LONG rain delay they beat the Indians 10-3. Game 3 will be played at 10:30 tomorrow morning at ACU.

Good luck to the Mavericks as they take on the Jim Ned Indians for playoff game #2 tonight in Hermleigh at 7:00!

Good luck to the Lady Mavs as they take on the Peaster Lady Greyhounds in a series, all in Glen Rose. Game 1 will be today, May 3rd @ 6pm. Game 2 will be on Saturday, May 4th @ 11 am in and if needed, Game 3 will be on Saturday @ 2 pm. Come out and support these awesome Lady Mavs!

EHS Academic Banquet, Thursday, May 9th at The Lumberyard - 7:00 pm.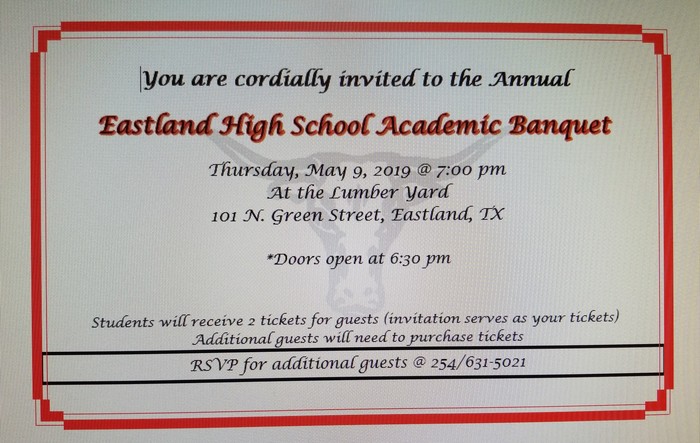 The Eastland Mavericks will head out tomorrow at 2:15 for their first game of the playoffs at McMurray. Please show your support for these boys and line the streets as they leave town. The route will be from the baseball field to Ostrom. Ostrom to Main. Main to Seaman. Seaman to Highway 6 and on to I20. This is the first time in 5 years The Mavericks have gone to the playoffs!! Show your support and spirit tomorrow at 2:15!!

Maverick Baseball Playoffs! Thursday and Friday, May 2nd and 3rd. We will be playing in a best of 3 series at McMurry University at 5 PM. Come out and support these awesome Mavs!

Congratulations to the Mavericks on their win against Dublin. 14-5!!

Location change for tomorrows Lady Mavs playoff game. Location will be in Trent at 5:00 instead of Hawley.

Congratulations to the Eastland Lady Mavs on their District Champs status!! What a great season! The Lady Mavs will play their first playoff game this Thursday, 4/25, against Jim Ned in Hawley at 6:00. Show these ladies your support and fill the stands to cheer them on!!

There will be no school 4/19 & 4/22 for EISD. Enjoy your four day weekend and Happy Easter!!

We're thrilled to announce Eastland Independent School District's new app! Access sports scores, cafeteria menus, news updates, even emergency notifications! Download the app on Android:
http://bit.ly/2Fz7RkK
or iPhone:
https://apple.co/2FxqAwK
.

Students will have no school Monday, April 1. This is a Staff Development Day. Enjoy your three day weekend!

Eastland Lady Mavs Softball team will be playing Varsity only tonight in Early at 5:00.

Baseball times have changed for today's games in Early. Varsity will play at 5:00 and JV will follow.