Eastland ISD will have a 10:00 start on Thursday 2/6/2020. Buses will run 2 hours late.
Eastland ISD will be closed on Wednesday, February 5, 2020 due to the threat of inclement weather and a high number of absences due to illness. All activities on Wednesday have been cancelled. Activities scheduled for Tuesday night will proceed as scheduled. The National Weather Service upgraded its weather advisory for Eastland County from a Severe Weather Watch to Severe Weather Warning at approximately noon today. The forecast includes sleet and snow accumulations from 2" to 4" beginning at midnight through 6 pm CST on Wednesday. In addition to the possibility of hazardous road conditions, Eastland ISD staff will be thoroughly disinfecting all three of its campuses which have seen a high number of absences by both students and staff. There is no decision regarding the possibility of closure or delay to the start of school on Thursday at this time. Eastland ISD officials encourage parents and the community to be cautious on the roadways and to attend to any illness that students may have. Thank you, EISD Administration
Students will be off this Thursday, Friday and the following Monday​ (January 16th, 17th and 20th). Thursday is a comp day and Friday is a staff and student holiday. Staff will have a professional development day on Monday, January 20th and regular classes will resume on Tuesday, January 21st.
Ho ho ho! EISD will be out for Christmas holidays starting on December 20th and will resume classes on Monday, January 6th. We hope you all have a blessed Christmas and a Happy New Year!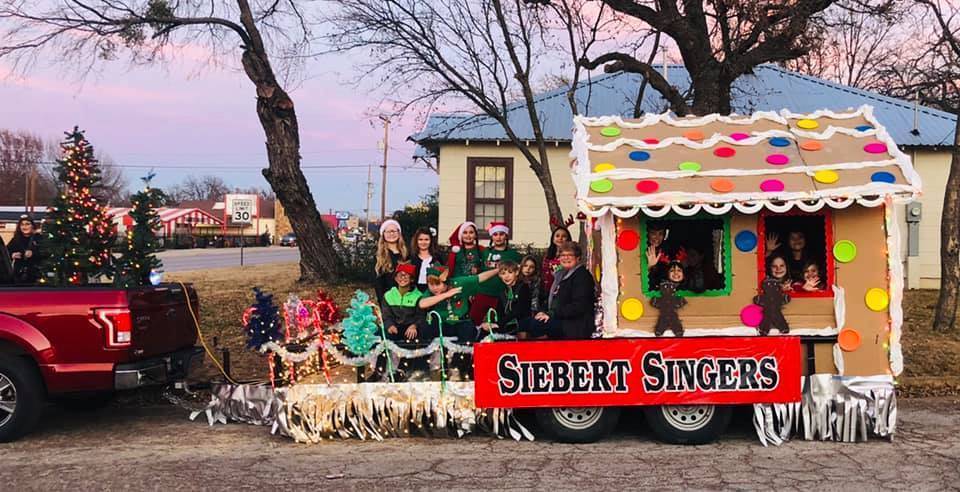 Kindergarten will have a special treat. AirEvac will be landing at Siebert today to talk to our students about what they do and to let them take a look at the helicopter. It will be awesome!
Just a friendly reminder that there will be no school for students and staff on Monday, October 14th. Have a great weekend!
Just a reminder that there will be no school for students and staff members on Friday, October 4th. Have a great weekend!
EISD will not have school Monday 9/2/2019. Hope everyone has a good Labor Day Weekend.

Community Back to School Bash Please come join Eastland ISD staff members on the square for a welcome back event on Thursday August 8th starting at 6:00. We will be having a hot dog supper provided by First Financial of Eastland and delicious desserts provided by the Eastland ISD staff. We would love for our community to come out and celebrate with us a new school year.

EISD will have early release on Wednesday (5-22) and Thursday (5-23). Thursday will be the last day of school for the 2018-2019 school year.
This morning at approximately 6:45 am, Eastland ISD had a bus experience what appears to be a blowout and ran off the road North of Eastland on CR 165. A special thank you to all the students whose behavior was excellent and helped greatly with the situation. Everyone is safe and at school. Thank you to the parents, First Responders, and staff for their quick communication and response in helping keep our children safe. We greatly appreciate everyone for all they did and are doing to help in this situation.

Due to last minute time and locations change, the Mavericks will be leaving to head out at 1:30 today instead of 2:15. We hope everyone has enough time to make adjustments to their schedules to still line the streets for them as they head out!!

The Eastland Mavericks will head out tomorrow at 2:15 for their first game of the playoffs at McMurray. Please show your support for these boys and line the streets as they leave town. The route will be from the baseball field to Ostrom. Ostrom to Main. Main to Seaman. Seaman to Highway 6 and on to I20. This is the first time in 5 years The Mavericks have gone to the playoffs!! Show your support and spirit tomorrow at 2:15!!

Congratulations to the Mavericks for their 6-5 win over Early Longhorns!!

Congratulations to the Lady Mavs for their win over Jim Ned! 10-0 run ruled!

Location change for tomorrows Lady Mavs playoff game. Location will be in Trent at 5:00 instead of Hawley.

GAME RESCHEDULE: Maverick Baseball will be Thursday, April 25 in Brock @ 6pm.

There will be no school 4/19 & 4/22 for EISD. Enjoy your four day weekend and Happy Easter!!

Friday, April 5 is the last day to order your yearbooks. Don't miss this deadline!

Students will have no school Monday, April 1. This is a Staff Development Day. Enjoy your three day weekend!
The phones and internet at the middle school and high schools are now working.